There's a lot of misinformation out there when it comes to the proper size cage your rabbit needs. That is why House Rabbit Resource Network wanted to provide this Rabbit Cage Size Guide.
A cage is an important part of your rabbit's living setup. Most cages sold in pet and feed stores are far too small for an adult rabbit. Below on this page, you will find the size dimensions for every part of a rabbit cage. We've also included a recommended materials section as well.
For those in the Austin, TX area, House Rabbit Resource Network sells custom-built cages at our Bunny Boutique store. Unfortunately, due to high shipping costs, we can't ship them.
Why The Right Size Cage is So Important
Contrary to popular belief, rabbits are energetic, social creatures. They need space to run, hop, and binky, as well as a place to spread out to sleep. The size cage you get for your rabbit is very important for both their physical and mental well-being. Cages that are too small can lead to depression, refusal to eat, digestive issues, and general aggressiveness.
The materials used in the cage are also very important because it won't matter how roomy the cage is if it's dangerous or hurting them.
Please note that most rabbit cages sold by big retail stores, pet stores, and feed stores are all way too small for an adult rabbit. We recommend just avoiding those altogether because it is simply a waste of your money.
We've included the minimum measurements for every aspect of a rabbit cage. With this information, you can either build your own cage or shop around to find one that matches these measurements.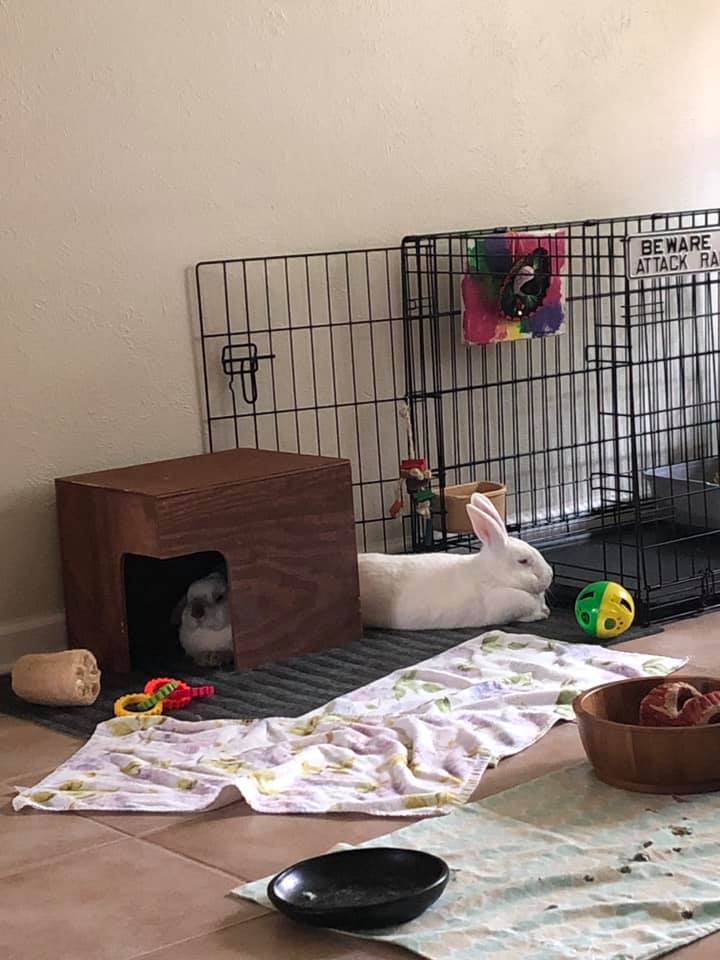 Photo of HRRN Alumni Henry and Buns relaxing outside their cage. Their caretaker decided to use a large dog kennel for their cage, which is a great idea as it is comfortable and roomy. But as you see, they are not confined to the cage 24/7. The adopter states that she only locks them in the cage when she's away from the house or at night. They free roam the house the rest of the time.
Minimum Measurements for a Rabbit Cage
A good rule of thumb is that a rabbit cage needs to be at a minimum twice as long as your rabbit is when they're fully stretched out. This is normally about 30 to 36 inches (3ft.) depending on the size of the rabbit. The cage should be wide enough to fit one adult rabbit fully stretched out. This can be anywhere from 24 inches (2ft.) to 36 inches (3ft.) wide.
But remember, when in doubt, go larger. Bigger is always better when it comes to cage size. Our shelter rabbits comfortably sleep in cages that start at 24″ wide x 42″ long x 24″ high.
**Please also note these are minimum cage requirements, a cage this size is not meant for a rabbit to live in 24/7. A cage this size is meant to go together with a runaround space as well. A cage that is meant for a rabbit to live in 24/7 needs to be much, much bigger to allow for room to run around too.
Displayed in the format of Length x Width and in inches. 
Things You Want for a Cage Door:
The door is at least 14″L x 16″W
The door is wide enough to fit a litterbox through it
There should be a door on one side of the cage that opens outwards
The door openings should all have smooth/filled edges or plastic guard strips to protect the rabbit from scratches or cuts
Things To Avoid:
No side door at all
The doors are small and narrow
The cage that has a side door that opens inwards, or down & out (like a ramp)
The cage only has a top door
The cage door opening has rough or jagged edges
Displayed in the format of Length x Width and in inches. 
Things You Want:
Type of Wire for a Wire Mesh Floor:
16-gauge welded wire. 1/4″ x 1″ galvanized wire mesh. 1/4″ spaced wires facing upwards
Must have a metal floor support bar across the middle of the cage (to prevent sagging)


Type of Wire of the Sides of Cage:
The side wire should be 1″ x 2″ 14-gauge welded cage wire
Things To Avoid:
Hardware cloth in place of metal for the floors
No middle support bar, so the floor wire sags and bounces with light hand pressure
Sides made of either chicken wire or hardware cloth
Having a metal or plastic pull-out tray can be very helpful for keeping the cage clean
Place newspaper on the bottom tray for easy cleaning
Make sure the tray fits flush with the cage
Always watch out for rabbit's toes when sliding bottom trays in or out
This photo is of some of our wonderful volunteers at the House Rabbit Resource Network shelter. This photo shows how useful a sliding bottom tray on a rabbit cage is, as it allows for quick, easy cleaning. If you lay newspaper down, then all poop and pee that falls through can easily be folded up in the paper and discarded. Follow that with a quick sweep, then spray with vinegar and wipe clean. Place new, clean newspaper down and you're done!
Custom-Built Rabbit Cages
House Rabbit Resource Network sells custom-designed and built indoor rabbit cages. We have three styles of rabbit cages to fit your rabbit's needs.
Cages are competitively priced with the local market. All cage sales support HRRN's rescue, foster, education, and adoption programs.
Our custom cages can be built to order. Contact House Rabbit Resource Network at 512-444-EARS (3277) or email us. 
Unfortunately, due to how expensive it is to ship these cages, we can only build for people who can drive to Austin, TX to pick them up from our Bunny Boutique.
All of our cages meet the minimum rabbit cage size requirements. These cages are designed to be a part of a rabbit's home setup, not the entire thing. Rabbits cannot be kept in these cages 24/7. Rabbits need lots of exercise, so these cages should be part of an x-pen setup or free roam living. Learn more about how to set up the perfect indoor bunny habitat with our Habitat Types and Ideas page.
HRRN Custom-Built Rabbit Cage Models
Every HRRN Cage Features:
All of our cages feature:
Metal slide out trays with handle for ease of cleaning
Large doors which open out to facilitate litter box (and reluctant bunny) removal
Wire wrapped door openings, not just cut edges, which minimize scratches and cuts (no plastic door guards for bunny to chew and remove)
Extra thick, galvanized after welding wire floors that are heavier, stronger, and extremely corrosion resistant (to industrial strength bunny-pee)
Floor supports to minimize sagging and bouncing (especially for those "rear-wheel drive" bunnies)
Aluminum and stainless steel j-clips, not the standard, run of the mill clips which can corrode
Despite these great features, our cages are for INDOOR USE ONLY (which is where your rabbit belongs)


Optional features (with additional fee):
Lofts (available on 24″ high cages only; maize/woven mats to cover the loft are included)
Extra door on top of cage
Many people find it easiest to build their own rabbit cage, which guarantees all measurements and materials are good for their rabbit. But not all of us are so crafty, so if you decide to buy a rabbit cage, we wanted to give you a head start. Here are some cages that are good for bunny, and others that should be avoided.
***Please remember, the "good" cages below are only recommended for indoor use and as part of a larger habitat setup.***
Large dog kennels are some of the most affordable, easy-setup cages that you can use for your rabbit.
We recommended buying one with 2 doors, and either a large or extra large-sized model.
These kennels are great for easy cleanup, and they look good to boot! Exercise pens are designed in the same style so can make the whole rabbit set-up look very clean and put together.
These kennels are also easy to break down, making setup and takedown easy-peasy.
There are a ton of different manufacturers to choose from. You can find these on amazon or any big retail store.
Some rabbit hutches can be a useful part of a rabbit's habitat. But you must really review everything about the hutch before you purchase it. Most stores like Walmart or Petsmart won't sell big enough "hutches". But Amazon has some really big ones that are marketed for outside use. These can be used indoors and look really nice as well. These can look great attached to an x-pen, or for free-roam use as well.
Just make sure you carefully review all dimensions, as many times these hutches look a lot bigger in photos than they actually are.
Most of these larger rabbit hutches are two-story. We don't recommend getting the ones that are one-story lifted on wheels unless it's rather low to the ground and you can make a safe ramp in and out. You'd also need to make sure the wheels can lock.
Photo Credit: Amazon's "Aivituvin Rabbit Hutch Indoor and Outdoor,Rabbit cage with Deeper No Leakage Tray, Bunny Cage with Removable Bottom Wire Mesh & PVC Layer, Upgrade Version". We would link it, but these products constantly change URL's, so we just provided the title. MidWest is a popular dog crate and x-pen company. 
Most Cages Marketed for Rabbits
This purple rabbit cage is the most common one found in pet stores and big retail stores like Walmart. It's marketed for rabbits but is way too small for any adult size rabbit.
Problems with this type of cage:
Far too small for adult rabbits
Not very easy to clean
No room for litterbox
The only side-door opens downwards. A rabbit trying to get out of the cage on their own can easily get a leg stuck in the wire slits of the door and injure themselves.
It is a large "leap" out of the cage, a rabbit can hurt themselves on the wire as they are trying to get out.
The second door (if there is one) is at the top of the cage. Lifting a rabbit out of the top of the cage can cause them to struggle and hurt themselves, as the movement is similar to a predator bird.
The cage is flimsy overall. The latches that keep the wire part of the cage on the plastic part can be easily undone by a child.
Most Cages Marketed for Rabbits
This wheeled rabbit cage is another cage that is commonly marketed as "great for small animals". There are several reasons why this cage is not adequate to house a rabbit even short term.
Problems with this type of cage:
Way too small for an adult rabbit. Do you see that balcony? A Guinea Pig would barely fit!
Not very easy to clean
No room for litterbox
The water bottle included is way too small for a rabbit
The wheels don't appear to lock, and being on wheels is dangerous if the rabbit tries to jump in or out of the cage
Plastic ramp taking up most of the space most likely to be chewed and ingested
The only side-door opens downwards making the potential for injury high
It is a large "leap" out of the cage, a rabbit can hurt themselves on the wire as they are trying to get out.
The second door is narrow and a rabbit will most likely panic when being picked up from that angle.
The cage is flimsy overall. The latches that keep the wire part of the cage on the plastic part can be easily undone by a child.
At first glance, these types of multi-level cages seem really cool and spacious. But really, they barely have any room on the four platforms. And when you think about it, in nature rabbits don't live anywhere that is set up anything like this cage.
Problems with this cage:
If a rabbit falls from the top tiers, they can injure themselves badly
Wheels make this cage unstable
Barely any space for the rabbit to move except upwards or downwards
Platforms are barely big enough for a rabbit to stretch out on
The two doors are not in good locations for safely getting the rabbit out, and not possible for the rabbit to get in and out themselves safely
Nowhere to put any kind of hidey-house for them
No place for litter box (though the bottom is grated)
The below websites are considered good resources in the sea of misinformation out there on the internet about rabbit cage sizes. You may notice that there are slight differences in cage size recommendations. Every rabbit expert or rescue has come up with their own general rabbit cage size guide, based on years of experience and research. So while these may differ by a foot here or rabbit-length there, they're all about the same. So take the information and use it to fit you and your bunny best.