The most painful part of caring for a rabbit is when you have to say goodbye. It's inevitable, but that doesn't make the loss and grief any easier.
If you have a surviving rabbit from a pair, you may be surprised to find that the surviving rabbit will most likely struggle greatly with the loss of their companion as well. The death of one rabbit in a bonded pair is a situation not to be taken lightly.
This page will discuss rabbit loss and grief for you, and for the surviving rabbit.
Dealing with Loss and Grief for the Surviving Rabbit
Rabbits form incredibly powerful bonds of friendship and love for their rabbit companion. So much so that the loss of a companion rabbit can lead the surviving rabbit to experience extreme depression, illness, and even death by heart break. 
In this section we discuss some of the do's and don't surrounding the death of one rabbit in a pair, as well as some things you can do to help your rabbit deal with their grief: 
When one rabbit in a pair passes it's extremely important that the survivor is given the chance to be with the deceased body for a few hours. This may sound bizarre, even morbid, but leaving the deceased body gives the surviving rabbit the ability to say goodbye and absorb what has happened to their friend.
Doing this has shown to greatly shorten the impact of the death and the grief period. Animals accept death better than humans do. They understand that it is a natural occurrence and will sit with a body for a while in mourning and as a way of saying goodbye to their companion. What is unnatural and detrimental for the surviving rabbit is taking their ill friend away to die somewhere else. They won't understand what happened and you can't explain it to them.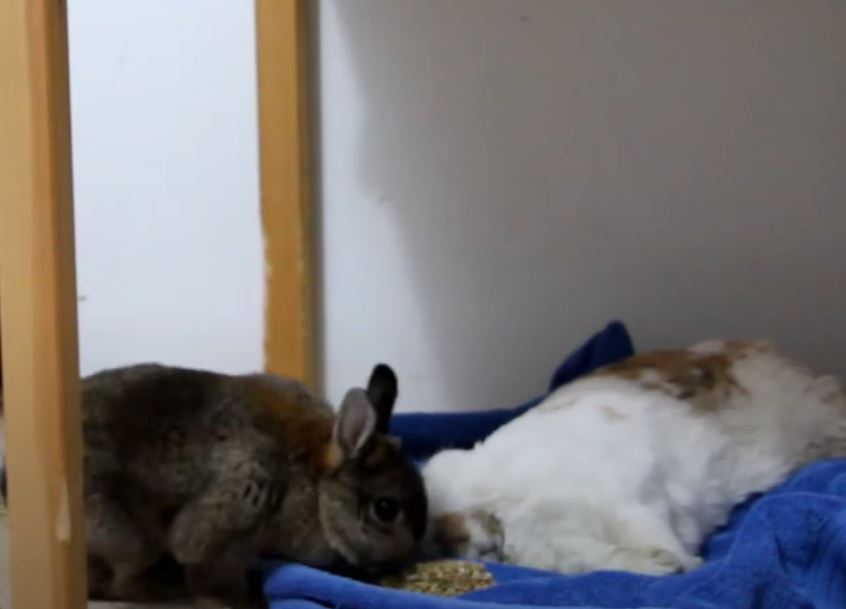 A rabbit whose mate is removed prior to death will wait patiently for their partner's return. If the survivor is not allowed to go through this process, they will wait for their friend to return… and wait… and wait… and wait. It will eventually result in deep depression, refusal to eat, and possible death of the remaining rabbit. 
If your rabbit dies at the vet, you must, if at all possible, bring the body back and place it with the survivor for a few hours before either taking it back to the veterinarian for cremation, or burying it yourself. If a necropsy is to be done, either the vet can do the necropsy and stitch the body back up so you can bring the body home, or they may ask that you bring the body back for the necropsy. If the rabbit has died of something contagious, know that the other rabbit has already been exposed. Bringing the body home has more benefits than risks in this situation. 
If for some reason you are unable to bring the body home, please make sure you follow the steps below on helping the survivor with their grief. If at all possible, give the survivor a blanket, towel, or stuffed toy with the deceased's scent on it and give the survivor a lot of attention and love to support them through this difficult time. Do not underestimate a rabbit's mourning, many rabbit's have died from a broken heart after the loss of a loved one. 
Steps to Helping Your Rabbit with Their Grief
Allow them the Time to Come to Terms with the Death of Their Partner
Give the survivor anywhere from 3 to 6 hours hours with the body. Give them complete privacy. At around hour 3 you can peek in and see if they are still with the body. If they have left, you can remove the body. If they are still next to it, give them another 3 hours. It's unusual for a rabbit to need more than 6 hours to come to terms with what has happened to their friend.
Normal Behaviors Associated with Coming to Terms with Their Partner's Passing
The survivor may groom the beloved's body, lie on or beside it, pounce on it, pull at it, run circles around it, chew on or "chin" objects nearby,  dig around it, etc. These are all good and completely normal and should be allowed. When there is no response from the body to these different actions, the survivor begins to understand that their friend is truly gone and won't be coming back. Because they have been allowed to come to terms naturally with the death, they will begin the grieving process and within a few weeks they will move on; instead of becoming deeply depressed and possibly dying.
Give the Survivor Something of the Deceased's During the Grieving Process
Once the survivor has had time to grieve with the body and the body is removed, it's helpful to give the grieving rabbi something that has their friend's scent, like a towel, blanket, or stuffed animal. If you don't already have something like that with deceased's scent on it, consider placing a blanket or towel with the body while you give the survivor time to mourn, that way once the body is removed, they will still have something with their friends' scent on it. This can offer a lot of comfort to your surviving rabbit in the days to come as they continue to mourn.
Keep the Environment Calm
During the grieving weeks it is important to keep the survivor's environment as quiet and calm as possible to reduce any additional stress. 
Give the Survivor Extra Grooming/Petting Sessions
During the grieving weeks, make sure that you give you and your rabbit plenty of time together. They will feel and understand that you are grieving too, and they will find solace in your company and attention.
Watch the Survivor's Food and Water Intake
Even when given time with the body, some rabbits take the death of their partner extremely hard. Make sure in the weeks after the passing that your rabbit is still eating and drinking. If they're not, take them to the vet to ensure there is no underlying illness, as well as if they have any suggestions to make the food more enticing. You may also need to step up your time with the survivor in terms of grooming/petting sessions to help them feel more supported. 
This video covers a rabbit coming to terms with their partners passing and being allowed to grieve with the body. It is a difficult video to watch, but it shows and discusses the different stages of the surviving rabbit processing their loss and grief. 

All Video and Content Credit for this video goes to its owner, Torie Adams, and her YouTube Channel.
Dealing with Rabbit Loss and Grief as the Caretaker
The loss of a rabbit family member can be absolutely devastating. What can make this difficult time even more difficult and isolating for us rabbit caretakers is that most people do not see rabbits as we do, and  therefore have a difficult time sympathizing or offering the support we need during this difficult time. 
The below section discusses some things to consider when dealing with the loss of a beloved rabbit and how to make sure you take care of yourself during this trying time.
Helping Yourself Through Your Loss and Grief
Psychologists and philosophers have studied the grieving process for centuries but have only recently truly begun to explore the effects of death in the relationships between humans and companion animals. Medical students are still expected to read Elisabeth Kubler-Ross' On Death and Dying.  Her landmark work from the 1960s defines five stages of grief: denial and isolation, anger, bargaining, depression, and acceptance. 
Most contemporary doctors agree that the linear progression of stages should only be used as a guide for understanding grief and loss from a death, since the mourning process is unique to each person. There should be no timetable for getting through your heartache, nor should you feel as if something is wrong if you skip a stage or find yourself moving in and out of stages. Guilt is a common emotion throughout the process—guilt over the decision to euthanize, guilt over a perceived oversight, and even guilt for feeling better, as if letting go is a betrayal. 
Healthy grieving means getting through your pain, not letting it take over your life, and eventually remembering your companion fondly.
A burial service can provide closure for you and your family. There are hundreds of pet cemeteries around the world as well as several companies that manufacture coffins, urns, and grave markers for companion animals. If you decide on a home burial, however, you must first check with city and county ordinances to determine the legality of internment. Your veterinarian can also dispose of the body or recommend an animal crematory center (many veterinarians work with these companies and have one at the ready), enabling you to keep the remains in an urn or box for a private memorial of your choosing.
While grief is a very personal experience for each individual, please know you do not need to face your loss alone. Many forms of support are available, including pet-bereavement counseling services, pet-loss support hotlines, local or online pet-bereavement groups, books, videos, and magazine articles (see below section for a few of these resources).
Here are a few suggestions to help you cope:
Give yourself permission to acknowledge and express your grief. Avoid suppressing or ignoring it. 
Give yourself permission to reach out to family, friends, or support groups who can lend a sympathetic ear. If in-person interactions are difficult, there are lots of wonderful online resources than can offer support and counseling during this difficult time. 
If verbally expressing your feelings is difficult for you, try writing your feelings down. This may seem cliche, but there is a reason it is, it works. Express your feelings by writing them down in a journal, as a poem, essay, or short story. However your heart tells you to express it. 
Call your veterinarian or local humane society to see whether they offer a pet-loss support group or hotline, or can refer you to one.
Prepare a memorial for your pet.
Sponsor a Shelter Rabbit in Loving Memory of Your Bunny
Many people enjoy doing something charitable in loving memory of their beloved pet. House Rabbit Resource Network's Sponsor a Shelter Rabbit Program is a simple, yet impactful way to honor your loved one's memory while helping a shelter rabbit. 
To learn more about Sponsoring a Rabbit, Click Here to visit the Sponsor a Shelter Rabbit Page